-- NEW RED ORKESTRA ALBUM: BURNING LITTLE EMPIRES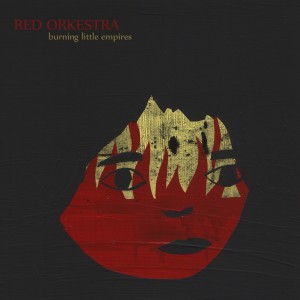 Fading Ways is proud to present Red Orkestra's 4th album, Burning Little Empires. It will be an author's edition in Canada, so we recommend you visit www.redorkestra.com for more information. Over in Europe, the record will be distributed by Compact Records in Portugal, Sonic RendezVous in the Netherlands and Broken Silence in Germany. Press and PR will be handled by Fabulous Generation (PT) and Starkult (DE).

Recorded by Red Orkestra's current line up consisting of Johnny Charmer, Steve Parkinson, Neil McDonald and Rick Andrade, Burning Little Empires was once again produced by Steve Payne.

New single now available for download! The new single from the forthcoming Red Orkestra album, Burning Little Empires, is now available for listening and downloading. Check out the Downloads section of this site to hear The 7th Seal.

Many thanks to the Royal Art Lodge for the cover art, You're never too young for forever.
www.redorkestra.com
-- WHO IS... THE POINT?
Fading Ways is also happy to announce that the Neil Leyton / Nicke Andersson side project THE POINT will finally see the light of day after a few delays in manufacturing. So, coming in the new year, The Point 7" will be available via Fading Ways distributors and the new online mail-order shop.

The 7" single, the first pressing of which will be a numbered edition, features three tracks, two of which are Andersson/Leyton compositions (the third being a The Jook cover). The tracks were recorded at Acetone studio in Stockholm over a two-day session with Micke RIP Borg (who also recorded Leyton's Betrayal of Self, Nicke Andersson's Death Breath, and The Solution, amongst many other great rock n roll projects).

Neil Leyton's own Elite Nylon album, meanwhile, is still awaiting release - although Leyton supporters will receive a near final version before x-mas (the commercial version will now most likely be wide-released later in 2010, in a number of formats being considered).
-- INTRODUCING... STEREO SATANICS
Stereo Satanics. Every true rock n roll fan will one day recognize these glam-punk fashionistas from small town Balingen, Germany. Ralph on Fyre (Guitar, Vocals), Dan Shandog (Guitar, Backing Vocals), Black Matze (Bass, Backing Vocals) J. Wilde (Drums) worship at the altar of Lou Reed, Nikki Sudden and the great unspoken truth that is rock n roll music. This is post-historic Garage-Punk with its roots in the 60s and 70s, re-invigorated for today. And does the world need the Stereo Satanics? More than ever, the answer is yes. The fact it's taken anyone three albums (Surrounded by Ghosts, coming in October on Fading Ways, is their third, following "Pirate Love" and "Whole lotta nothin'") to even notice is obviously evidence of their greatness.
"Surrounded by Ghosts" will be available on CD and LP. Please visit The Stereo Satanics online at www.stereosatanics.de and their MySpace. We hereby welcome our newest German friends to the Fading Ways family.
-- THE RETURN OF JUD!
Fading Ways Records Canada, FW UK & the FW Music Store Artist Collective welcomes Jud to our fold for the territories of Canada, UK, BeNeLux and Sweden (Finland tba via FW Finland). Jud's 5th album, Sufferboy, is due out this fall via a staggered international release, but pre-orders can now be made via the FW Music Store.
"Sufferboy" will be out in September/October throughout our distributed territories. Here's what JUD have to say about it:
"7 years in the making, we extremely proud to present our 5th album. A blinding production by Jon Caffery (Joy Division / Einstürtzende Neubauten) recorded on a fat 2 inch analog machine in the Wong Studios, after lots of sweaty days and nights in the jam room. We appreciate your love and support, we have been getting your mails, we made this, fat and blinding collection of our new best ever creations, for you the Jud fans." Visit JUD now to re-acquaint yourself at www.judtv.com.
-- ACEFACE RELEASE NEW EP
Toronto's premier mod-rockers have delivered their long-awaited third release 
through Fading Ways Canada. The self-titled EP features six tracks of brand new 
material.  Once again, front man Carl Nanders joins the rest of this quintet, 
pairing some new influences with his love of mod-soul and Brit-pop.  The result is 
music that belongs somewhere between the Who and Pet Sounds in your cd collection.
Aceface careens from fury to lechery or revolutionary fervour with uncanny ease, and 
the intelligent, inspired lyrical content is always a highlight. 

We'll be celebrating the release with a gig at Toronto's
Neutral Lounge on Saturday, February 23.  Come for the kick-ass rock,
stay for the fantastic dj-ing. Media inquiries and interview requests can be directed to Tina Siegel at tina.siegel@gmail.com. 
Chartattack has also run a story on the release.
-- FW ARTIST COLLECTIVE FIRST RELEASES OF 2008
2008 is poised to be Fading Ways' strongest ever year, with the release of several new label titles via our existing, as well as new, distribution partners (in Germany and Portugal).
The growth of the Fading Ways Artist Collective, which featured the release of The Banshee's "Public Talks" album at the end of last year, continues in January with the release of Jim Clements & The Right to Die's new album "When the Saints Go", and is followed in February by The Singles' "Start Again" album. Jim and his new backing band, The Right to Die, unveil the album headlining London's Borderline club friday Jan. 11th. The album can be purchased via www.fadingwaysmusic.com/store.
Johnny Charmer's Red Orkestra have also released a new EP, Enola, following last year's second European tour. Here at home in Canada, Aceface are all set to release a brand new EP this February.

-- THE PARIAHS TURN 20
The Pariahs will celebrate their 20th anniversary with back to back shows at Toronto's Bovine Sex Club, October 18th and 19th. This auspicious occasion will - mental acuity permitting - be followed by the release of the band's fifth cd in 2008. Local support for the festivities will include Troy Sinister and the Trailer Park Ghouls, Romeo Liquor Store, Snowblower and Days Left. Local rock luminaries Staci T. Rat and Rue Morgue Radio's Tomb Dragomir are also slated to supply true, blue rock n roll and DJing before, between and after the live rock n roll spectacle.
Twenty years - that's gotta count for something in this 'here today, gone tomorrow' world!
The Pariahs also welcomed a new addition in bassist Sean Beresford this year. Sean is adapting to his miscreant band mates with disturbing ease. Keep an eye on this site, www.thepariahs.com and www.myspace.com/thepariahs for more info.
-- FW ARTIST COLLECTIVE GROWS
August 30th, 2007
The Fading Ways family of labels is happy to announce the expansion of its FW Artist Collective that operates via www.fadingwaysmusic/store. Several Canadian artists have recently joined the Collective, namely Broomfiller, Vaslav, The Machines and honourary Canucks Buck Brothers. We also welcome, on an international level, the fantastic rock n roll prowess of New York Loose as well as Italy's The Banshee.
-- FINALLY... UPDATES!
July 4th, 2007
First, our apologies for the lack of site updates. We're back now, with Tina Siegel as the new FW Canada director, and we come bearing gifts in the form of exciting news from the past six months. Read on to find out where we've been and where we're going, and be sure to visit our Canadian Street Team on MySpace. We celebrated January '07 with the release of our label's 50th title: a 2-CD set featuring label artists on disc one and several FW Artist Collective & FW Music Store friends on disc two. Several artists chose to cover each other's work, with special honours mentions going to Aceface (for their cover of the Pariahs' "Essential") and The Sinisters (for their speedfreak rendition of The Conscience Pilate's "Money & Alcohol"). Our Canadian contingent – always ready to party - released the cd at Toronto's legendary El Mocambo in late January. The occasion garnered us a great article in Chart magazine. Check it out here: ( www.chartattack.com/DAMN/2007/01/2603.cfm ). And if you missed the fun, never fear: Fading Ways 50 is still available via our online music store. Click the cover on the left to order your copy from the FW Music Store. Here's to the next 50!
ACEFACE IS BACK!
Aceface fans rejoice! Toronto's premier mod-rockers will be releasing a 6-song EP before the year is out. The long-awaited followed up to 2005's Threat Level: RedWhiteBlue - which was praised as 'a lefty's freak-out jam session' and 'a readathon with a very welcome ass-shaking twistathon' - will be available via Fading Ways Canada. Check back here, or head on over to www.aceface.net, for further details - you'll know more as soon as we do!
NEIL LEYTON
Neil Leyton, now residing in Camden Town, London, has recently returned from a tour which took him - along with his Swedish backing band, the Ghosts, and our very own Johnny Charmer - through most of Germany, with some Austrian and Slovenian dates as well. In August, Leyton will be playing bass and producing an as-yet untitled album project for Rich Ragany (ex-Lindy and Red Autumn Fall guitarist, now also living in London) at Stockholm's Acetone studios; after which he will perform at the ProtestFestival in Kristiansand, Norway, on the 7th of September, with two Swedish shows on the calendar that month as well; next full European tour following in late October. Here is a link to the last song of the last show of the past tour, live at the Kulturpalast in Hannover. Keep abreast of developments here or visit www.neilleyton.com to find out about the new Leyton Album Support Package; and don't forget the new www.myspace.com/neilleytonandtheghosts. Meanwhile, the Pretty Volume project with Ky Anto has been released in the UK via the FW Artist Collective, and yet another side project, with the Hellacopters' Nicke Andersson, will also be announced soon!
JOHNNY CHARMER & RED ORKESTRA
Red Orkestra front man Johnny Charmer spent two weeks in Europe this spring opening for Neil Leyton and the Ghosts, as well as filling in on bass for the Ghosts' Jan-Eric Olsson on some dates. It was Johnny's first international deployment and, by all accounts, a resounding success. In fact, he was so enamoured of the experience that he plans to do it again in October. Also on the horizon are new Red Orkestra releases, including an EP this winter and a new album for 2008. The band's sophomore disc, Life With the Machines , has been called '…a steady stream of pleasing pop…' and '…an album which will surely touch all those who open their hearts to it…'
Can Red Orkestra top that? Absolutely. Keep an eye out for RO's third album in 2008. Producer/engineer Steve Payne (also the bassist in Boy and The I-Spies) is once again on-board and demos are being recorded already. Further details to be posted here and at www.redorkestra.com and www.myspace.com/redorkestra as they become available.
-- NEIL LEYTON'S THIRD ALBUM: THE BETRAYAL OF THE SELF
Sep 15th, 2006
Leyton's third album will be released this coming Monday Sep. 18th via Fading Ways UK / Cargo Distribution, with a domestic release in Canada via Scratch, and a mainland European release via Sweden's Feedback Boogie. Leyton will be on the road for five weeks starting October first, and the album has already - as expected - started to polarize UK reviewers with some of its controversial lyrics. "Some people are not intelligent enough, nor wordly enough, perhaps not even true enough to themselves, in the Gruen sense: They're just not going to get it. But that's the press for you - if you don't have a life of your own you can always write about someone else's, haha. Others think it's brilliant and are calling it the new soundtrack to Velvet Goldmine. While that is clearly an over-simplification as well, it's quite fine by me". The album is named in tribute to Swiss psychologist Arno Gruen's book, Der Verrat am Selbst, which is now very hard to find in the English language, being out of print. Leyton's updated artist site, www.neilleyton.com provides more information about the record.
You can order the record online from anywhere in the world via the FW Music Store by clicking the banner on the right.
-- LIFE WITH THE MACHINES: RED ORKESTRA'S SECOND ALBUM
June 30th, 2006
Johnny Charmer's Red Orkestra, whose live line-up now consists of ex-Candidates Neil McDonald and Steve Parkinson along with drummer Rick Andrade (The Machines), unveil their new album with two domestic CD release parties, including an appearance at Toronto's Rancho Relaxo this July 21st. "Life with the Machines" was produced by Steve Payne and Johnny Charmer, and solidifies the critically acclaimed tradition of "urban-folk" tunes initiated by their debut, "After the Wars". An European release will follow later this fall via Fading Ways UK and Fading Ways Finland labels.

-- P2PNET.NET SUED BY KAZAA; NEIL LEYTON HOSTS FREEDOM OF SPEECH BENEFIT FUNDRAISER !
June 15th, 2006
Jon Newton' s www.p2pnet.net, a bastion of free speech on the web, is being sued under Canada's libel laws. Find out more here - this concerns all Canadian citizens, musicians, fans and bloggers. Neil Leyton has written a song on the situation, to help raise funds for Jon's defense; and a benefit fundraiser is being organized for August 5th at Toronto's Rivoli.
-- NEIL LEYTON LAUNCHES DEAD FASHION BRIGADE EP IN LONDON UK
On May 22nd, 2006, at Camden Town's Purple Turtle, Leyton will be joined onstage by his Swedish backing band the Ghosts, as well as guitar hero Rich Jones (ex-Black Halos, Yo-Yo's). Beware the wrong date printed on the back cover of the current UK Rock Sound magazine - the show is on the 22nd, not the 25th. Support comes from Leyton's friend Mark Fernyhough and the magical talents of the White Russians. The Dead Fashion Brigade EP was produced by Ginger (Wildhearts) and mixed by the Stagger Twins (Leyton & Jones). It foreshadows the Betrayal of the Self album that will be released in September...

Meanwhile, a brand new Leyton "live archive" album is now available at Fading Ways UK's online store. Recorded in Helsinki and featuring two sets by Leyton, one electric and one acoustic, this 2-CDR double live set is from a soundboard recording that captures Neil Leyton at his live best.
-- NEW FADING WAYS FINLAND LABEL LAUNCHED!
March 15th 2006
The Fading Ways Music global community expanded this month with the launch of the new FW Finland record label. FW Finland's first signing are Finland's rock n roll dandy heroes Turku Romantic Movement, who will be co-headlining the Generation Updated tour with Neil Leyton this spring throughout Slovenia, Austria, Germany and Sweden. A split 7" vinyl EP will be the label's first release, featuring two tracks each from Neil Leyton and Turku Romantic Movement. Find out more at www.fadingwaysmusic.com/finland!
-- FADING WAYS AND WIRELESS NOMAD
Feb 28th 2006
Toronto's Fading Ways Music and Wireless Nomad Co-op are pleased to announce that the Fading Ways Share sampler series, licensed under Creative Commons, is available free on the Wireless Nomad wireless Internet network. 30 full-length songs are now available to download anywhere on the Wireless Nomad network, completely free, completely legal, and completely in support of our communities and artists.
-- RED LIGHT RIPPERS: NOBODY LIKES A RAT!
Dec. 1st. 2005
The debut album from Toronto's Red Light Rippers is pure rock n roll. Picture the bastard child of early Guns n Roses and Alice Cooper, weaned on the hardiest-partying debauchery you can conjure up and filtered through years of survival. This is no frills, gritty, raw rock n roll from a ringleader that is an amazingly dedicated and focused rock n roll survivor, Staci Rat. Visit www.redlightrippers.com for a taste - the record drops in February! It's going to spin your head 'round and 'round 'til you cry out for the local exorcist...
-- DIAMOND DOGS ARE BOUND TO RAVAGE
Following an excellent UK tour featuring both Diamond Dogs and Pariahs this last month of November, Fading Ways Records is proud to present "Bound to Ravage", the latest offering from Sweden's best kept rock n roll secret, Diamond Dogs: a rag-tag collective of boogie woogie music men with hearts full of soul, influences proudly on their suit jacket sleeves. "Bound to Ravage" will be released in Canada in February, with the lead-off single "From Now On" having been co-written by our very own Randy Bachman! If you want solid rock n roll grooves with the best live band since the Faces, look no further - Diamond Dogs are here.
-- FADING WAYS' FIRST UK SIGNING: MEET JOHN DOE
Sep. 17th 2005
Meet John Doe are the first UK-based artist to join the Fading Ways roster. Binding together the intelligent soundscapes of Mogwai with the experimental ferocity of Fugazi, the band are a politically-aware group of young men that are going to turn a few heads in the alternative scene. The Refused hailed the Shape of punk to come? Well, here it is. Visit them online at www.meetjohndoe.co.uk, and watch for their debut EP to be released in the UK in November. The Canadian launch will be set for early 2006.
-- THE SINISTERS: TERMINAL VOLUME
Toronto acid punk legends The Sinisters have re-inked with Fading Ways for their next full-length album, Terminal Volume, which will be released in the spring of 2006. Stay tooned for Sinisters details - Saint, Scarlet, Brian and Troy have made their third full-length album after years of staying true to themselves as Canada's underground anti-heroes, and now they are ready to break out - the fearsome foursome's first European tour is in the works!
-- FADING WAYS AT POPKOMM '05 & NEW SIGNINGS NEWS!
Aug. 10th, 2005
Fading Ways has been invited to participate in this year's Popkomm conference in Berlin Germany, with international label director Neil Leyton speaking at the "Podcasting Creative Commons" workshop, prior to his performance showcase at the NBI club at Berlin's Culture Brewery. Leyton will be joined by guitarist Micke Ghost. Meanwhile, UK label director Ashlyn Eaton has inked a deal with Toronto's newest rock n roll bad boys Red Light Rippers for their debut album "Nobody likes a Rat", which will be due out in early 2006.
-- FIRST EVER FADING WAYS TOUR SET TO HIT SCANDINAVIA: NEIL LEYTON BLACKLIGHT SKIES
May 19th, 2005
Neil Leyton's Blacklight Skies tour hits Sweden & Finland over the next two weeks to coincide with the Scandinavian release of his new European compilation album, "Blacklight Skies". Named after Caitlin Hotchkiss' Leyton fansite, the compilation is a co-release with Germany's Supermusic label and is being distributed via Lars Gustafson's label for Scandinavia. Larsa has also assembled a hand-picked Swedish backing band for Leyton, The Ghosts. Over in Finland, Fading Ways street-team leader Mikko Jokela has coordinated a tour with Turun Romantiikka and Hundred Million Martians, going above and beyond the call of team leader duties! Glance over the shows column for details, or visit the Fading Ways UK label site for additional information.

-- FADING WAYS JOINS BIT-TORRENT PAID DOWNLOAD SERVICE: INTRODUCING PRODIGEM
May 17th, 2005
Releases offered this launch week include both Conscience Pilate albums and Neil Leyton's out-of-print "Secret Avenue" album. Other Fading Ways titles to follow. Visit Prodigem and BitTorrent to find out more. From the Prodigem press release:
"The Prodigem Marketplace allows Prodigem users to sell their independent media (videos, music, etc) while not concerning themselves with traditional bandwidth costs associated with repeated large data transfers. Content providers simply upload their work, set a price, and Prodigem does the rest. Once customers pay for access to the bit torrent peer-to-peer session for your content, Prodigem grants them access so they can begin their download (no DRM)." Files are offered in MP3 format as well as lossless FLAC format, and are licensed via Creative Commons' Attribution-NonCommercial-ShareAlike license. You can use the Prodigem search engine to find the various Leyton and Conscience Pilate torrents; for example, for Leyton Secret Avenue FLAC torrent click here and for TCP click here.
-- FADING WAYS AROUND THE WORLD!

May 1st, 2005
Several updates from FW UK HQ. First off, the new FW Music Store is now online, and shipping around the world - featuring not just Fading Ways titles but also those of other artist that have made great music over the years - classics as well as indie newcomers.
Secondly, in conjunction with two other Creative Commons labels, Loca (UK) and Magnatune (US), Fading Ways is proud to present a Symposium at the Uni of Sussex in Brighton UK: Remix Culture. Details at: www.musiccommons.org. Speakers include Paula Le Dieu, director of Creative Commons International, as well as Peter Jenner, artist manager extraordinaire, as well as Neil Leyton, David Meme and John Buckman, among others. Sussex Uni, Brighton, Friday May 6th. Sign up on the Wiki page; space is limited!
In June, the second Fading Ways UK artist tour hits the road: The Three Blind Mice tour is an all-acoustic revue featuring Paul James Berry, Neil Leyton and Jim Clements. Watch the UK label site for details at www.fadingways.co.uk.
Meanwhile, Berry has also invited to play the NXNE festival in Canada, while Leyton is off to Sweden and Finland for his first Scandinavian tours. Visit the Finland Street Team site for more details: www.rockrevolution.co.uk/finland. Many thanks to Finland's street team leader Mikko Jokela, and Sweden's Lars Gustafson from Feedback Boogie/ Deaf & Dumb for making the first Leyton Scandinavian journey a reality!

-- SUPERMUSIC RELEASES NEW LEYTON COMPILATION ALBUM
April 1st, 2005
Germany's Supermusic label, home of Paul James Berry, are releasing "Blacklight Skies" on June 15th, a new Neil Leyton compilation featuring a selection of tracks off the Beat EP, the Midnight Sun album, and others, coinciding with Leyton's first Germany-Austria tour opening for PJB.
-- NEIL LEYTON TO SPEAK OUT AGAINST PROPOSED CHANGES TO CANADIAN COPYRIGHT ACT.
Feb. 1st, 2005
From the TIP website: "The student-run Technology and Intellectual Property Group of the University of Toronto will present a one-day academic conference called "Sound Bytes/Sound Rights: Canada at the Crossroads of Copyright Law." In 2004, the Standing Committee for Canadian Heritage issued recommendations for changes to the Copyright Act broadening copyright protections. In the same year, the Canadian courts headed in the opposite direction by handing down important judgments recognizing user rights." Leyton has been invited to present the Fading Ways perspective on the issue, and will speak alongside other invited panelists: CRIA President and U of T Entertainment Law Professor Graham Henderson, lawyers Barry Sookman and Ronald Dimock, MP Sarmite Bulte, the Parliamentary Secretary to the Minister of Canadian Heritage, Red Hat's founder Bob Young, and Professor William W. Fisher III, from Harvard University.
The conference will take place Friday, February 11, 2005 at Flavelle House, University of Toronto Faculty of Law, 78 Queen's Park, Toronto, Ontario. You can register by sending an e-mail to tip.conference@utoronto.ca. The event is free for all undergraduate, graduate and articling students from all faculties and universities. For all others, cost is $30 in advance or $40 at the door.
-- SHARE VOL. III NOW AVAILABLE !
Jan. 15th, 2005
Our Creative Commons licensed SHARE series continues with its third instalment, featuring tracks by Aceface, The Pariahs, The Sinisters, Neil Leyton, Red Orkestra and Passion'd Flower. Vol. III can be freely downloaded off of any of our Street Team sites. Also keep an eye out for an enhanced Members-only Street Team site section featuring exclusive multi-media features, to be launched next month at www.rockrevolution.co.uk!
-- FADING WAYS FORUM MOVE
The Fading Ways forum is now at http://forum.fadingways.com/ Sign on and join in the ongoing discussions on the Fading Ways label, life, Creative Commons, or anything else to do with our label's activities from our artist roster to the global efforts of our growing Street Teams. Many thanks to our Dutch Street Teamers Helga and Marianne, as well as Canadian street team member Russell McOrmond, for making this transition so smooth!
-- FADING WAYS BEGINS COOPERATION WITH MINDAWN
Dec. 6th, 2004
Mindawn is a new music download service that, unlike iTunes and others, does not endorse Digital Rights Management in the files they sell. Furthermore, Mindawn offers the option of both "lossy" compression in the Ogg Vorbis format and a lossless FLAC format. Alongside this new partnership, Fading Ways continues to fight the ridiculous claims by the mainstream Canadian music biz, whose myths were recently exposed in a great Toronto Star article by Michael Geist.
-- THE RETURN OF THE PARIAHS!
Nov. 8th, 2004
Canadian rock mavericks the Pariahs will have the last word yet. Their third, self-titled album is a magnificient homage to live, out of control rock n roll that defies definitions. The album is so good they didn't even bother to give it a title. Back from their headlining CANADIAN INVASION UK tour, the Pariahs are set to unleash their latest at their Toronto CD release followed by some extra special Canadian live dates. Visit the Pariahs online.
-- FADING WAYS UK UNVEILS NEW ONLINE SHOP
Visit our new UK online shop and check out Fading Ways UK's x-mas packages, that offer you the opportunity to purchase, support and give quality indie music over the holiday season. Fading Ways denounces the current major-label multi-national regime and its law-suits, and encourages you, the music fan, to buy artistic rather than corporate music. Stop the madness.
-- ACEFACE RELEASE FIRST FULL LENGTH ALBUM


Sep. 12th, 2004
Toronto's Mod mavericks Aceface are all set to launch their "Threat Level: RedWhiteBlue" debut album at the Mod Club Theatre Oct. 12th in Toronto, after which they will fly to England for the CANADIAN INVASION tour.
-- CANADIAN INVASION UK TOUR
The first Fading Ways CANADIAN INVASION tour will feature Aceface, Neil Leyton and the Pariahs. 10 shows in 10 days throughout England and Scotland this October. Visit www.fadingways.co.uk for details!
-- JIM CLEMENTS: "KILL DEVIL HILLS" RELEASED
Sep. 8th, 2004
Jim Clements' debut album is now available via our UK label site. Don't miss Jim's CD launch this October 4th at the Betsey Trotwood, near Farringdon tube station, London UK. Order now at: our UK online store. Kill Devil Hills will hit the Canadian college radio airwaves next month! You have been warned.
-- SHARE VOLUME II: INTERNATIONAL EDITIONS


July 21st, 2004

Share Vol. 2 wil feature two slightly different track listings for its Canadian and European releases. While the European instalment will feature tracks by the Pariahs, Aceface, Neil Leyton, Jim Clements, Red Orkestra & Galore, the Canadian edition will open with the track "Supermodel" by Paul James Berry. Watch the FW street-team sites for free MP3s from our Share samplers, licensed via Creative Commons.
-- "NATIONS" by PAUL JAMES BERRY

PJB is an English singer/songwriter now based in Paris, signed to German label Supermusic. Fading Ways will distribute PJB's third solo album, "Nations", in Canada this Summer.

-- NEIL LEYTON & THE DEADHEARTS ANNOUNCE SPLIT-ALBUM
July 12th, 2004
Bourbon Records Argentina will release a split-album featuring six songs from each band. The album will be titled "Rock n Roll used to Mean Something" and will be available i via the Fading Ways UK mail-order service.
-- NEW FADING WAYS UK LABEL SET TO LAUNCH

July 8th, 2004

Fading Ways UK street team leader Ashlyn Eaton, in partnership with Fading Ways, is set to launch a brand new label in the UK. The first UK-only release will be Neil Leyton's "Beat" EP.

Fading Ways UK will then continue to release the scheduled Fading Ways titles in the UK (Jim Clements' "Kill Devil Hills" and new albums by the Pariahs and Aceface). The first Fading Ways UK tour, featuring the Pariahs, Neil Leyton and Aceface, will take place October 14th to 24th. Dates tba. www.fadingways.co.uk
-- RED ORKESTRA'S "AFTER THE WARS" CD RELEASED!

May 8th, 2004

"After the Wars" is the world's first album release to be physically sold under a Creative Commons license. It can now be ordered via PayPal from our Catalogue page.
An intensely personal record with influences ranging from the Smiths to Billy Bragg, this is a lyrically powerful debut that will establish Johnny Charmer as one of Canada's finest new singer/songwriters.

-- FADING WAYS STREET-TEAMS ASSEMBLED IN THREE DISTRIBUTED TERRITORIES / NEW LABEL FORUM LAUNCHED
April 5th, 2004
Fading Ways is delighted to announce that in conjunction with the launch of its first share sampler, Vol. One, three new street-team websites are going live over Easter Weekend alongside a new label forum that invites participation from street-team members the world over, as well as Fading Ways artist fans. The new sites can be viewed via the following links:
Canadian Street Team: www.soulrevolutionaries.org
Dutch Street Team: www.glitzz.net/fadingways
UK & Ireland Street Team: www.rockrevolution.co.uk
Fading Ways International Forum: forum.fadingways.com
All street team leaders are actively flyering, promoting the share samplers & Creative Commons, and are looking for more teamsters to join them in their mission! Get in touch with them via their sites, and congratulations to Caitlin, Ashlyn, Marianne & Helga on all on the awesome work done so far!
-- FADING WAYS ANNOUNCES NEW ARTIST RELEASES AND CREATIVE COMMONS "SHARE" SAMPLERS FOR 2004


March 19th, 2004
Our first two releases this year, Red Orkestra's "After the Wars" and Jim Clements' "Kill Devil Hills" are in the final stages of production with Steve Payne producing.


Both these releases, as well as other FW new title releases in 2004, will be sold under Creative Commons licenses. Also coming soon is our series of CC "share" samplers, as well as new artist pages for Jim Clements and Thee Motion.
Visit our mission page for additional info, or visit Creative Commons at their own site: www.creativecommons.org
--NEW NEIL LEYTON FANSITE NOW ONLINE!
www.soulrevolutionaries.org/leyton
-- KEVIN QUAIN'S "TEQUILA VAMPIRE MATINEE" CLOSES ITS SUCCESSFUL RUN AT THEATRE PASSE-MURAILLE!
December 2003
Barfly Kevin Quain's second abum has now been developed into a full-blown Theatre Production opening November 13th at Toronto's Theatre Passe-Muraille. Visit the link for more details...

www.kevinquain.com/tvm.htm

Update: Congratulations to Kevin on his Dora award for Tequila Vampire Matinee - "Outstanding new musical" - well deserved!!
-- CHANGES ONE: "EVOLVER" NOW AVAILABLE!

October 15th, 2003
UK's C1 (ChangesOne) Record Label has released a Neil Leyton collection spanning 10 yrs of musical activity (pre-, during and post- Conscience Pilate material). The release includes a poster-style fold-out of Leyton's "Toronto Rock n Roll Family Tree".

This item will NOT be commercially available in Canada, so visit the C1 site to order:
ChangesOne Neil Leyton web page
-- KY'S BRAND NEW SITE IS NOW ONLINE!
Visit www.kyanto.com for details.

-- FADING WAYS LAUNCHES SPECIAL ORDER SERVICE
Visit our Catalogue / Special Mail-Order page for lots of fan collectibles. Featured special item re-releases: 3 CD titles from Passion'd Flower including "Flowers in the Rain", "Live at the Marquee" and "The Deaf Condessa".


-- ACEFACE WORKING ON DEBUT ALBUM AND MUCH MORE...
Carl Nanders isn't one for resting on the laurels of ACEFACE's debut EP "amazing dementia". The band have been working on their debut album while concurrently putting the finishing touches on "Anto", a 2-CD songcycle including strings, horns and a real gospel choir. The album will be released this Fall.

-- THE PARIAHS ROCK HARDER THAN YOU!

Rock n roll veterans The Pariahs are mixing their new album with Brad "Merlin" Nelson. They've promised Fading Ways HQ it'll be ready for a September 2004 release and are looking forward to touring the UK in October.. Meanwhile, debauchery reports from the road have Mike Pariah refusing stitches after a flesh wound incident at a Toronto Silver Dollar show...